To See The Other Sections Click on Their Tab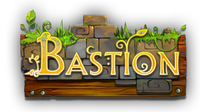 Bastion is the first game created and developed by Supergiant Games. It is an action RPG with a level structure.
The game was released on July 20th, 2011 on Xbox Live and later released for PC on August 16th, 2011. On December 9th, 2011, Supergiant Games announced a browser version of Bastion sold from the Google Chrome webstore. Later in the day, Supergiant Games also announced The Stranger's DLC package, which includes supplementary material and two new game modes.
The game revolves around a mute hero referred to simply as the Kid. The rest of the world has literally fallen to pieces in the aftermath of an unknown doomsday event referred to as the Calamity. It is the Kid's duty to revive a sanctuary, known as the Bastion.
Gameplay
Bastion features real-time combat set atop fantasy-themed isometric environments that literally spring to life beneath the very feet of the hero. Players take the role of this silent protagonist as he fights his way through the colorful, post-apocalyptic world. Each level involves exploring crumbling locations for Cores while fighting a variety of enemies also struggling to survive. The Kid's actions are dynamically narrated by an anonymous Stranger who also provides the story's exposition.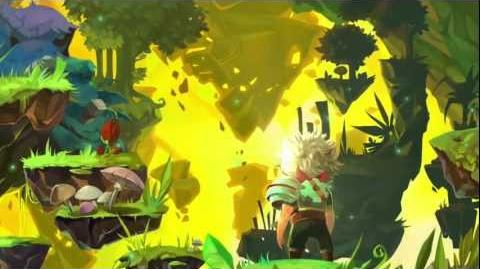 Between levels, the Kid returns to the titular
Bastion
where he can spend in-game currency called
fragments
to buy weapon upgrades and unlock additional equip items. These are obtained and used in various
structures
located in the Bastion. As the plot progresses, the Kid also gains access to three different isolated arenas which reveal additional lore for the survivors.
In-game achievements are recorded by the Memorial, one of the Bastion's structures, which rewards fragments when the achievement is met.
While levels cannot be revisited once completed, the Kid can visit challenge courses designed to test the player's skill. Each Proving Ground is unique to the designated weapon, with individual goals and restrictions. There are three tiers of successful completion, each with a prize. Once a weapon has been mastered, the corresponding Proving Ground is permanently sealed.
Plot
The Kid awakens on the remains of the Rippling Walls of Caelondia and immediately sets off for the safe haven of the Bastion. When he arrives, he encounters a Stranger who bids him to gather the Cores that powered the now-ruined city and contain energy which will revive the sanctuary.
Reception
Bastion received "generally favorable reviews", according to review aggregator Metacritic, scoring 86/100 for PC[1] and 83/100 for Xbox One versions.[2] Most reviewers praised the game's visuals and soundtrack – according to GameSpot, "The world of Bastion is brought to life with some truly exceptional hand-painted environments." [3] Slant community collectively agreed that the game offered a fun, varied gameplay and a unique way of storytelling.[4]
See Also
References
Community content is available under
CC-BY-SA
unless otherwise noted.