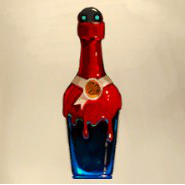 Cham-Pain is one of the spirits in the game Bastion.
Description
Sickness-inducing mixture brewed from aged Scumbag secretion.
Imbibed as a rite of passage.
"Cham-Pain's made with Scumbag extract, hence the barley aroma...and the nausea"
Effect
+25% Damage
-1 Chance to Carry On if Defeated
Notes
Unlocked in New Game Plus.