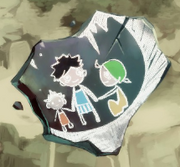 A memento.
Discovered in Zulten's Hollow.
Description
"A crude but heartfelt illustration.
It is inscribed in chalk on a stone surface.
Unlike most of the Ura civilization, it survived the Calamity more or less intact."
Dialogue
To Zia: "The Calamity took everything from the Ura, didn't it? Besides their will to fight."
"They lost everythin' didn't they. But they just keep fightin' like that's gonna bring it all back."
To Rucks: "This was one of the only traces left of the Ura civilization."
"I don't need to see what happened to the Ura. I'm tryna undo it, remember?"
Community content is available under
CC-BY-SA
unless otherwise noted.