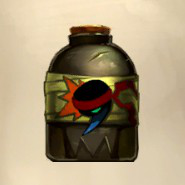 Doomshine is one of the spirits in the game Bastion.
Description
Rancid drink believed to bring fortune in battle.
No permanent injury from imbibing but sure feels like it.
"Doomshine's a bit of an acquired taste, like a mouth full of horseradish"
Effect
+10% Critical Hit Chance
-10 Max Health
Notes
Unlocked in New Game Plus.