The Shrine of Micia

The Goddess of Loss and Longing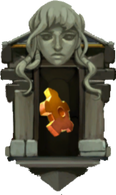 Foes Shall Regenerate From Any Injury
+5% experience and fragments earned
"The Lorn Mother gave away Her heart, and bears the Star of Caelondia in its stead."
References
Rucks refers to Micia simply as "Mother", as does Zulf.
Quotes
Rucks:
"Mother only knows."
"Mother, this one's for you."
"Well, if you can't burn 'em, you can always blow 'em to Mother on high, right?"
Referenced in "Pantheon".

"Mother, lonely old gal, tear your heart out for what you've done."
Zulf:
Referenced throughout "Mother, I'm Here".

"I see your star, you left it burning for me. Mother, I'm here."
"Eyes open wide, feel your heart and it's glowing."
"I'll take your hand, now you'll never be lonely." This is a possible reference because when Rucks sings "Pantheon", he mentions that Micia is a "lonely old gal."
Community content is available under
CC-BY-SA
unless otherwise noted.