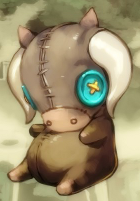 A
memento
recovered from
Pyth Orchard
.
Summons pet Pyth for the Bastion after speaking to Zulf.
Description
"A machine-stitched likeness of the God of Commotion and Order.
As the people of Caelondia grew more self-reliant, they grew less fearful of their Gods, and turned them into commodities."
Dialogue
To Rucks: "The Gods didn't bother to stop the Calamity, did they...?"
"The Ura feared the Gods. We turned 'em into toys. Put their faces on our walls."
To Zulf: "Would you like to hang onto this? The Ura people worshipped the same Gods as us after all."
"Zulf doesn't touch the thing. Says the God o' Commotion is no children's toy."
Community content is available under
CC-BY-SA
unless otherwise noted.