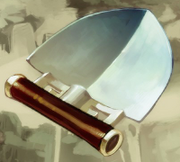 A
memento
discovered in
the Hanging Gardens
.
Description
"An insignia borne by people of the Ura heritage.
The Tazal Spade was a rare sight in Caelondia even before the Calamity, as very few Ura lived in the City.
Now there are fewer still."
Dialogue
To Rucks: "Were there many Ura living in the City before the Calamity? Can they be trusted here?"
"We fought the Ura decades ago. But that was then. Things're...different between us now."
To Zulf: "Have you been in Caelondia long? Did you travel all the way from the east?"
"He was born in the Tazal Terminals. The Ura sent him on a mission of peace to our City. He's lived here ever since."
Community content is available under
CC-BY-SA
unless otherwise noted.