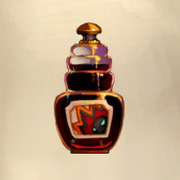 Werewhiskey is one of the spirits in the game Bastion.
Description
Scentless yet very brisk beverage of boiled Rattle-tail whisker.
Used to revive patients in triage centers.
"Werewhisky has no scent but tastes like a peppered bootheel. It's not for everyone."
Effect
+100% Critical Hit Chance
'Note:' Active Only When Below 33% Health
Note
Werewhiskey's guaranteed damage boost makes it exceptionally useful in a large number of Proving Grounds, though it is never truly necessary. Keep it in mind if one is giving you trouble.
Community content is available under
CC-BY-SA
unless otherwise noted.